Welcome
Orogenic Exploration Pty Ltd is a private diamond exploration company based in Melbourne, Australia. Orogenic also specialises in providing to others advanced exploration strategies and consulting in relation to the development of diamond projects.
Orogenic currently has one active diamond exploration project, Flinders Island on the Gawler Craton in the state of South Australia.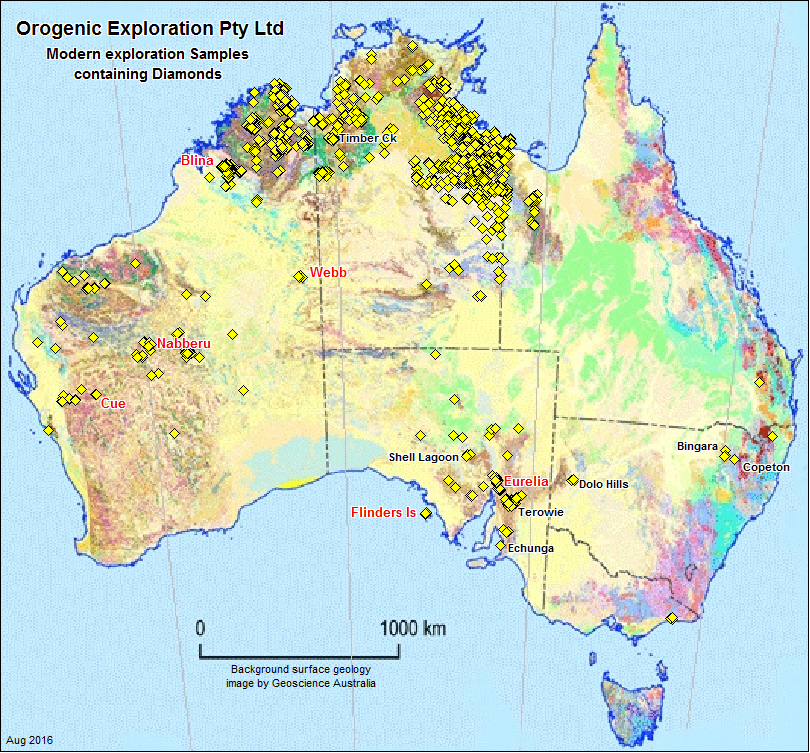 Australian geology map showing location of over 75,000 diamonds recovered during modern exploration by various companies. Location points based on database held by Orogenic Exploration Pty Ltd. Current active Australian diamond exploration projects labelled in red are Flinders Island (Kalyan Resources Pty Ltd/Orogenic Exploration Pty Ltd), Eurelia (Diamond Resources Ltd), Webb (GeoCrystal Ltd/Meteoric Resources NL), Nabberu (Diamond Resources Ltd), Cue (Sunrise Resources Plc) and Blina (Phosphate Australia Ltd). Some selected previous diamond exploration projects are labelled in black.