Consulting
Orogenic Exploration Pty Ltd is a consulting company offering a complete range of diamond exploration services. We are experienced in all activities ranging from initial generation through to final economic bulk testing of diamond projects. We have been constantly building a large geologic database, specifically designed for diamond exploration. The database includes a great deal of published and unpublished sample, grain count and microprobe data, from Australia and overseas. We have detailed information on thousands of samples across Australia carefully captured from georeferenced exploration maps and linked to over a quarter of a million microprobe analyses. This is combined with an extensive collection of kimberlite and related rock samples from across Australia and around the world.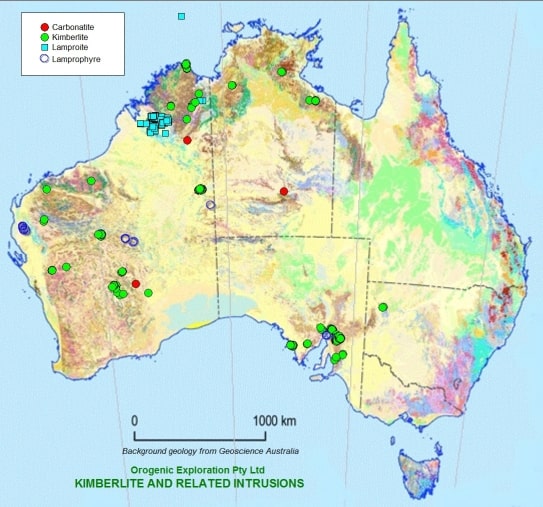 Orogenic Exploration Pty Ltd has, since 1998, undertaken consulting work for a large number of public and private clients, including BHP Minerals Pty Ltd (Brisbane), Tawana Resources NL (Melbourne), Diamond Ventures NL (Sydney), Anderson Schwab Inc (New York), and others. Orogenic has consulted on projects located across all Australian states, as well as South Africa, Botswana, Canada, Zimbabwe, Mauritania, Greenland and Finland. Active field visits have been made to diamond exploration and mining projects across Australia, Canada, USA, India, Finland, Turkey, South Africa, Botswana, and Zimbabwe.
Orogenic has exploration and geological data on most of the kimberlite and related rocks in Australia, taken either directly from mineral exploration company reports or visited and measured directly by Orogenic. The locations and further details of the South Australian intrusions can be found in the publication by Cooper & Morris, 2012 (SA Geological Survey Report Book 2012/006). For most of the kimberlite locations the coordinates are accurate to within metres of the intrusion centre.
Orogenic can provide field support for work within Australia. We currently have a long range, Troopcarrier Landcruiser, well fitted with camping and sampling equipment, for diamond exploration anywhere in Australia. Orogenic has a stereoscopic microscope with an attached digital camera, setup for diamond examination, that can be taken into the field during bulk sampling programs for diamonds. Orogenic Exploration Pty Ltd now has a fully fitted, self contained exploration office and accommodation van suitable for both quick and prolonged stays on site with minimum site disturbance. Orogenic also now has available a rapid reading caesium vapour magnetometer (Geometrics G858) fitted with a DGPS navigation system which enables rapid high resolution magnetic intensity maps to be produced. Complimenting the G858, Orogenic also has three G856 proton precession memory magnetometers and a KT-10 magnetic susceptibility metre.
Diamond exploration consulting is managed by Senior Geologist Steven Cooper. Steven has been involved with a wide range of diamond projects across Australia, covering work on all aspects of diamond exploration. Steven's experience has ranged from the collection of the first reconnaissance heavy mineral samples, all the way to the final interpretation of the microprobe data; from determining the bulk sample sites, to checking for diamonds in the final scraping from the grease table. Steven has also worked on many known kimberlites and lamproites across Australia, and has participated in the discovery of new diamondiferous intrusions. While employed by Diamond Ventures, he was responsible for managing diamond exploration in eastern Australia, including responsibility for all the geophysical and computer database activities for the company. Recent activities include the advanced study of Northern Territory and South Australian diamonds, and the dating and trace element geochemistry of kimberlite minerals.