Welcome
Orogenic Exploration Pty Ltd is a private diamond exploration company based in Melbourne, Australia, specialising in consultancy on advanced diamond exploration strategies and techniques, as well as contract geological activities for a range of other commodities including gold, copper, lithium and potash.
We currently have equity in one active diamond exploration project, Flinders Island on the Gawler Craton in the state of South Australia.
In addition to a long track record of successful, efficient diamond exploration across Australia, Orogenic Exploration Pty Ltd also has the largest, most concise privately owned diamond database for Australia. With data accumulated from over 50 years of modern exploration by over 200 separate companies.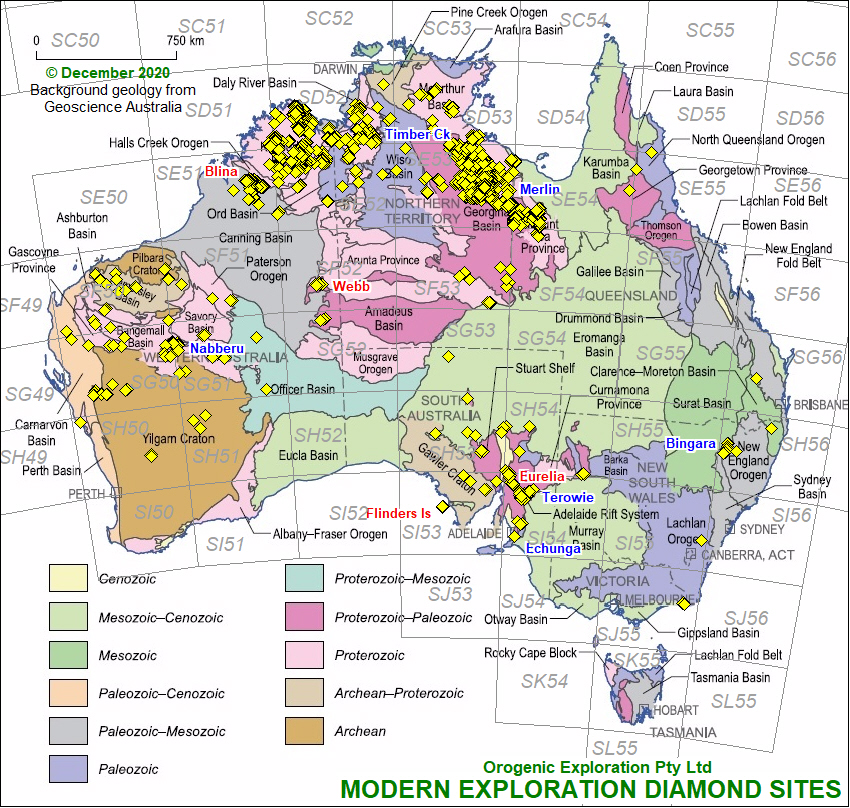 The Australian geological map above shows the location of nearly 4,000 samples which together contained over 128,000 diamonds. The location points are based on the Diamond Exploration Database held by Orogenic Exploration Pty Ltd.
We started our database in 1989 using the DOS program dBase after spending a week collecting the initial historical diamond exploration data in Darwin from microfiched reports. Since then it has continuously grown and expanded including data from across Australia and overseas. Wherever there has been a diamond project chances are we already have the relevant data.
Current active Australian diamond exploration projects are labelled in red. These include Flinders Island (Kalyan Resources Pty Ltd/Orogenic Exploration Pty Ltd), Eurelia (Aus Diamond Mining Group Pty Ltd), Webb (GeoCrystal Ltd/Meteoric Resources NL), Nabberu (Aus Diamond Mining Group Pty Ltd), and Blina (Gibb River Diamonds Ltd). Some selected previous diamond exploration projects are labelled in blue.