Parnaroo Loam Grid, Terowie
The Parnaroo Loam Grid is an interesting case study of a loam sample grid program completed by Stockdale Prospecting Ltd (the former Australian subsidiary of De Beers) in March-April 1972 (Colchester, 1972). Covering an almost flat area on the western flank of the low Porcupine Range hills, the Parnaroo Loam Grid is centred approximately 27 kilometres northeast of the township of Terowie. This area is within the Terowie Kimberlite Province (Cooper & Morris, 2012). The grid area covered is over 45 square kilometres with sample spacing around 320 metres and with sample weights of approximately 23kg. A total of 448 E-series samples are shown on the single original Stockdale map (SEL-328).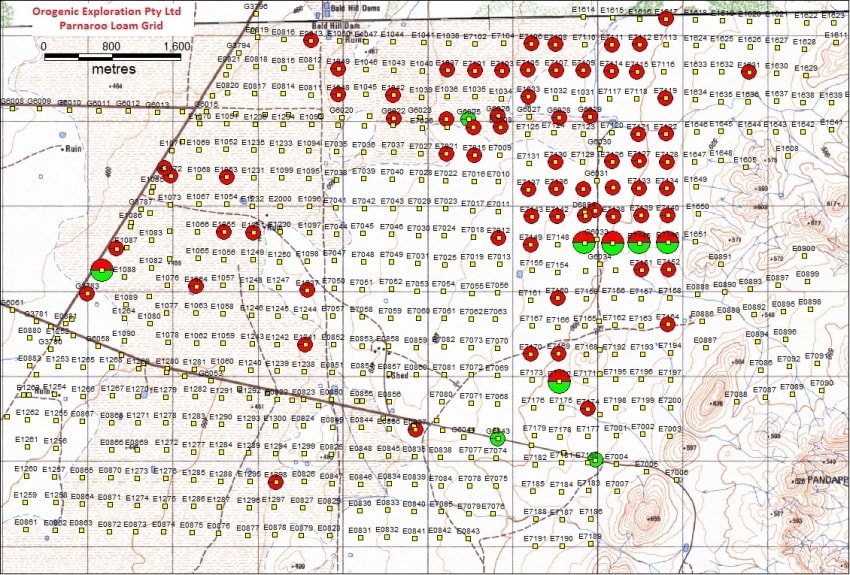 Topographic map showing location of Stockdale surface loam samples at Parnaroo. Red circles indicate pyrope was recovered, green circles show picroilmenite was recovered and half red and green show samples which recovered both types of minerals.
The loam grid was completed after reconnaissance loam samples along tracks and fence lines recovered pyrope garnets and picroilmenites (samples G6022, G6024, G3783-85 and G3789) late in 1970. These track loam samples were organised after a pyrope was recovered in a reconnaissance stream sample (B4027) at a creek crossing along that track (maybe collected in 1969). A number of samples from the loam grid recovered pyrope and some picroilmenite but no record of how many grains in each sample was provided in the historical reports. No follow-up work is recorded and Stockdale surrendered the exploration tenement in July 1972. Stockdale in their final report stated that they believe a small kimberlite may exist, but because no diamonds were reported in over nine tonne of surface scrapes examined from the Parnaroo Loam Grid that any kimberlitic rock present would not be diamondiferous (Colchester, 1972).
Over 40 years passed before the next phase of diamond exploration occurred in this same area. Flinders Diamonds Ltd flew a high resolution magnetic survey using a helicopter which outlined many anomalies possibly caused by kimberlite in the region. One 0.8 ha round dipole magnetic anomaly was within the Parnaroo Loam Grid area. Flinders Diamonds initially completed a trench over the magnetic anomaly in April 2006 but this was inconclusive. Later in November, a 5.6m deep auger drillhole intersected and confirmed the presence of kimberlite at 3.5 m depth, just 10 metres further east from the previous trench.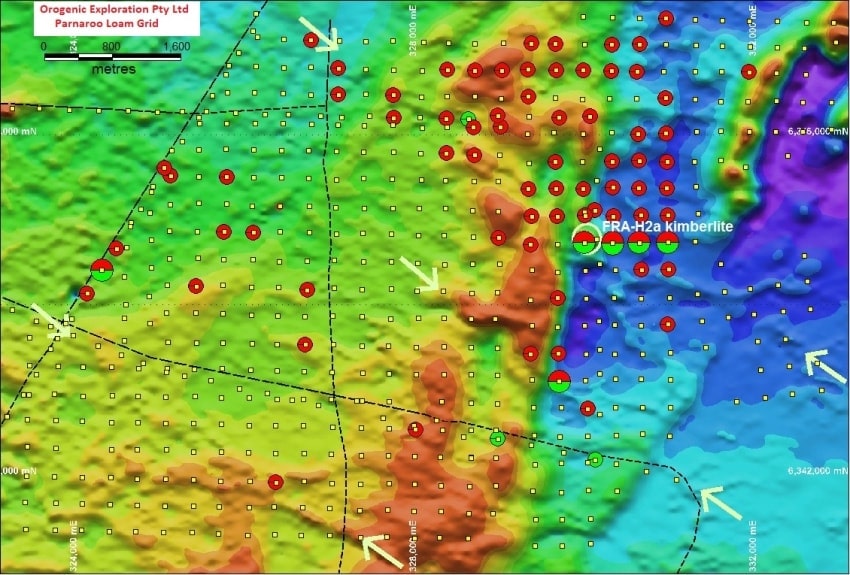 Modern aerial total magnetic intensity image over the 1972 Parnaroo Loam Grid area. The location of the new kimberlite FRA-H2a discovered in 2006 is shown. The location of other possible interpreted kimberlite dyke locations are indicated by white arrows.
The discovered kimberlite pipe FRA-H2a is within the Parnaroo Loam Grid close to where Stockdale had shown a pyrope and minor picroilmenite anomaly in this local area (Cooper & Morris, 2012). Examination of the mineral grain microprobe data from the indicator minerals recovered by Finders Diamonds shows that the kimberlite is expected to be barren, or very close, for diamonds and this was confirmed by the recovery of no diamonds by Flinders Diamonds.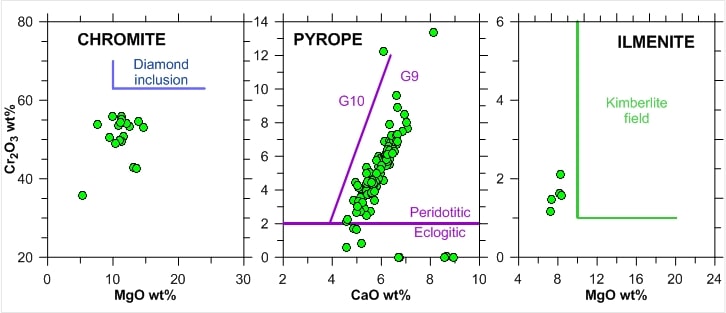 Simplified mineral chemistry plots for indicator grains recovered from kimberlite FRA-H2a by Flinders Diamonds Ltd.
This case study shows how a single positive reconnaissance stream sample led to further surface loam samples taken along tracks, and then to the completion of an extensive loam sampling grid. This loam grid highlighted positive local areas but geophysics at the time was limited in providing an actual drill target. Combined with a lack of encouragement in the quantity and quality of indicator grains Stockdale abandoned exploration in this area.
The geophysics available to Stockdale at the time was primitive and expensive by today's standards. By using modern high-resolution magnetics it is now possible to see that the sample results collected over 40 years ago match what can be interpreted now. As well as the magnetic anomaly that located the new kimberlite, the Total Magnetic Intensity (TMI) image shows linear features that could also be kimberlite dykes. The positive grains recovered in the 1970's possibly support this interpretation. All this confirms that good quality historical sample data is still very useful, particularly when combined with new data.